Why custom AEC software is the right choice for your business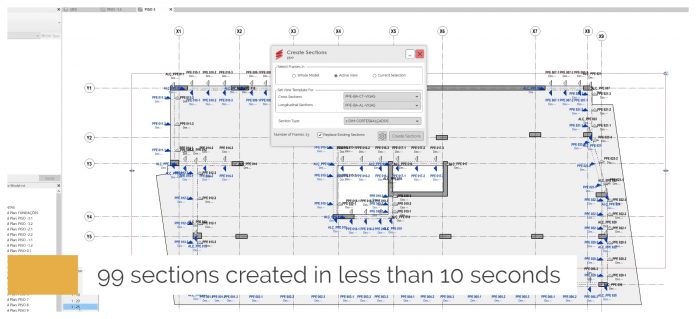 It's well-known in the digital era we live in that using software takes a big chunk of the time and money spent on a project – make your AEC software work for you.
Request a quote
Digital technology is merged with the physical from the design to the construction phases in an exponential rhythm. Thus, forward-thinking and rapid adaptability towards digital technologies will dictate the companies that will thrive in the next decade(s).
Each business faces unique and complex challenges. In such a scenario, the out-of-the-box tools available often fail to fulfill the unique project and/or company requirements. So, a bespoke digital solution is always a viable option to consider and one of the biggest trends in all industries.
Why should custom software be an option?
To increase your efficiency
Among the most prominent benefits of investing in custom software is the significant increment of overall productivity. By automating manual, complicated, repetitive, time-consuming, and error-prone workflows, your team will be able to deliver faster and better. From a management standpoint, being automated processes reasonably predictable, you can also accurately estimate the time it will take to complete a set of tasks.
For example, DiRoots developed a custom Revit plugin for PPE, a structural design engineering company, to automate one of the most time-consuming and monotonous tasks – the structural framing reinforcement/rebar detailing workflow. They ended up with a bespoke Revit add-in capable of concluding this task approximately 90% faster. It automates the creation of section views and the reinforcement detailing, including annotation/tagging and dimensioning.
The image above showcases all the tasks that have been automated in Autodesk Revit – section views creation, reinforcement detailing (including annotation/tagging and dimensioning). All these tasks were previously manually performed. Read the complete case study.
To scale with low costs
It's expectable that your business will grow in the coming years. Scaling your organization will demand more complex business processes and a bigger team. Off-the-shelf software doesn't scale with your business processes complexity and it can become extremely expensive because of the extra number of licenses you'll have to buy as your team grows. Tailored software can easily be tweaked to scale and adapt to your internal processes, and because you own the solution, you don't need to acquire more licenses for new team members.
DiRoots has recently worked with Binsky to develop a tailored solution that supported cost reduction and increased efficiency. Binsky was using commercial software to optimize its tasks, an approach that was not only becoming increasingly expensive due to the need to acquire more licenses but was also not efficient as expected. As a forward-thinking company, Binsky decided that it was the right time to invest in a solution that genuinely works for its business needs, is scalable, and easily extendable to fulfill other future requirements. With this tailored solution, the company will have a total return on its initial investment in a short period of time, and licensing costs are no longer a reality to Binsky.
To integrate with low costs
Like any other business, your company is operating with its own processes, workflows, and applications. Commercial software often doesn't fit this recipe, forcing your organization to adapt to the new technologies. Adapting your workflows to the commercial software way of doing things brings extra business costs that the decision-makers commonly do not consider. Bespoke software bypasses these challenges because it seamlessly integrates your in-house workflows, team members, and in-use applications. In other words, it is the technology that adapts to your organization rather than your organization adapting to the existing technology.
To increase your profits and stay competitive
After considering all the benefits that a custom software solution can bring to your business, increasing your profitability and revenue ends up being a natural outcome. Investing in business processes automation, eliminating repetitive and time-consuming tasks, and delivering better and faster to your clients is critical to stay ahead of the competition in the rapidly, ever-evolving technological-driven market we live in today.
For Tecomat, the most time-consuming and repetitive task was blockwork modeling. Due to the amount of manual labor required to perform the blockwork in the traditional way, Tecomat started struggling to remain competitive.
Placing brick by brick and fitting them in the walls was an inefficient and error-prone task that Tecomat quickly realized needed to be fully automated. Reduction of production costs, increased efficiency, and quality gains were the objectives that led the company to look for a bespoke solution. The custom Revit plugin delivered by DiRoots allowed Tecomat to remain competitive by optimizing their internal design processes while providing the best and quickest results to their clients.
In the image below, you can clearly see the amount of manual work that has been automated. Before they were placing brick by brick, now the custom Revit add-in has automated the whole process. Read the case study.

Request a quote